Our Horses' Ancestors
Abu Farwa
(Rabiyas x *Rissletta)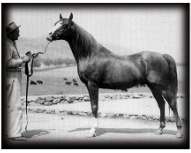 Chestnut stallion Foaled 1940
Bred by the W.K.Kellogg Institute
Abu Farwa was a copper chestnut stallion of magnificent presence and classic beauty. Standing 15.1 1/2 hands, and weighing 1075 pounds, he showed no hint of coarseness, yet had unusual substance and good flat bone. Abu Farwa's clean chiselled head, fine throatlatch and long, arched neck were among his his outstanding points. His ideal conformation of neck allowed him to set his head naturally without severe bitting or forced collection. Abu Farwa was bred for both beauty and performance, inheriting his high airy trot from both sides of the pedigree, with two crosses to *Berk and several lines to other horses which had unusual ability at this gait. Although he is a great-grandson of Gulastra in the direct male line and is the chief progenitor of Gulastra blood, Abu Farwa combined both the leading lines of the breed-Skowronek and Gulastra-as his dam's sire was the elegant Naseem, considered by Lady Wentworth to be the best son of Skowronek. Abu Farwa was shown on only a few occasions, but won blues in nearly every instance and was champion of the 1948 spring all-Arabian show as well as winner of the three-gaited class. Among his numerous winners in performance classes Tamarlane, several-times winner of the highpoint award in the performance division and well known from coast to coast for his wins in three-gaited, combination, parade, harness and pleasure classes; while as an example of the opposite extreme in types of work. Abu Farwa's daughter Barq had been practically unbeatable in stock horse events. Another daughter of Abu Farwa was very well known, this being the purebred mare Wahana, out of Mehana by Hanad, that took the equine lead in the TV series "My Friend Flicka".
*Aladdinn was born in Sweden in 1975. He won his class at the Swedish Nationals as a yearling and two-year old. At the Swedish Nationals in 1978 when he was three, he did it all: won his class and a gold medal, was judged Swedish National Champion Stallion and won the highest point score of any horse in Swedish shows to date.
*Aladdinn was imported to the United States in 1978. He won his age class of 43 entries and emerged Show Champion Stallion at the 1979 Scottsdale show. Eight months later, he was the U.S. National Champion Stallion, that vote a unanimous decision of the judges. *Aladdinn was syndicated for a staggering $15,750,000.
*Aladdinn was known for his conformational correctness, extreme type, and overall beauty. His strength as a sire and his ability to consistently produce competitive, marketable individuals of the highest quality, substantiate his value and establish him as one of the breed's greatest sires. He produces offspring with type, motion, balance, excellent shoulders and long necks.
*ALADDINN has sired 24 National Champions. *ALADDINN's National Champions in halter are: U.S. Reserve National Champion Mares JOTH RAJE ALA AURA and SWEET CHARITIE, Canadian Reserve National Champion Futurity Filly GWYNDYNA (out of a *BASK++ daughter), Canadian National Champion Futurity Filly OMBRA ROSE, Canadian National Champion Futurity Gelding SUSSEX, twice U.S. Reserve National Champion Stallion ALADA BASKIN(out of a *BASK++ granddaughter), U.S. National Champion Mare and Futurity Filly SS FOLLOW ME(out of a *BASK++ daughter), U.S. National Champion Stallions ALMADEN and STRIKE(both out of *BASK++ daughters), and U.S. and Canadian National Champion Stallions AAF KASET+ and EXCELADDINN. *ALADDINN is the only stallion in breed history to sire four U.S. National Champion Stallions. *ALADDINN's National Champions in performance include: U.S. National Champion Western Pleasure JTR 13 and Under MISS ADELAIDE, U.S. National Champion Western Pleasure JOTR 13 and Under ESCADRON and MYSTICS MAGIC+/(both out of *BASK++ daughters), U.S.Reserve National Champion Western Pleasure MADISON(out of a *BASK++ daughter), U.S. and Canadian National Champion Western Pleasure SENSATION AL Z, Canadian National Champion Hunt Pleasure JOTR and JTR BUGATTI ROYALE+(out of a BASK++ daughter), Canadian National Champion Hunt Pleasure SCOUNDREL, U.S. National Champion Prix St. Georges Dressage HAVLIN, twice Canadian National Champion English Pleasure Junior Rider WW FOXFIRE, Canadian Reserve National Champion Country Pleasure WARRANTY, Canadian Reserve National Champion English Sidesaddle ROMEO VF(out of a *BASK++ daughter), four times U.S. National Champion Formal Driving HOUSTON, and U.S. and Canadian National Champion Park ALLIENCE+/, who was just named U.S. National Champion Park in 2000 at age 15! He is also out of a *BASK++ daughter. 2000 US National Champion 2nd Level Dressage MSU Magic J.

*ALADDINN offspring are significant breeding horses. Through 2000, 102 of his get have produced National winners, including 58 of his sons. *ALADDINN sons have sired National Champions in halter and many different performance disciplines. U.S. National Champion Stallions ECHO MAGNIFFICOO and LEGACY OF GOLD are both by *ALADDINN sons, as are Canadian National Champion Stallion *ENCHANTER MAGIC FHP, Canadian National Champion Park GOING MY WAY,Canadian Reserve National Champion Park HOTT LIXX, Canadian National Champion Show Hack ARIZONA LADD, Canadian National Champion Country Pleasure and Country Pleasure AOTR 40 and Over NIGHT STRIKE, U.S. National Champion Western Pleasure Junior Horses CHF BOLD MELODY and RRF TAILORMADE+/, U.S. and Canadian National Champion English PLeasure AOTR 18-39 VAN NORTHERLEI, Canadian National Champion Western Pleasure Junior Horse HR ALEXIS, U.S. Reserve National Champion Western Pleasure winners NW AWESOME and MA GALLANT LADD, U.S. Reserve National Champion Hunter AOTR STRIKING FASHION+, Canadian National Champion Hunt Pleasure PRIAMM, Canadian National Champion Country Pleasure AOTR 18- 39 and Country Pleasure Driving WORTHY, Canadian National Champion Stallion AOTH , Hunt Pleasure Junior Horse and Western Pleasure Junior Horse SHAMPAINE++, U.S. Reserve National Champion Futurity Colt and English Pleasure Junior Horse ALLIONCE+, U.S. National Champion Training Level and First Level Dressage JTR 13/Under KORALADDINN+/, U.S. National Champion Reining JTR 13/Under ZA APOLLO, Canadian National Champion Reining AOTR LF ZODIAK, and U.S. Reserve National Champion Stock AOTR POLISH PRINCESS.

*ALADDINN has 43 daughters who have produced National winners. Their National Champion offspring include Canadian Reserve National Champion Stallion PSYMADRE, Canadian National Champion Country Pleasure FIZJON, U.S. National Champion Stallion AOTH BURNEN BEY, U.S. National Champion Mare AOTH and Country Pleasure Driving AOTD and Reserve National Champion Country Pleasure AOTR 18-39 and Country Pleasure Driving MORNING EL GHAZA++, U.S. and Canadian National Champion English Pleasure AOTR BBASKTEZZ, U.S. National Champion Hunt Pleasure JOTR 13 and Under POLO MW, Canadian Reserve National Champion Futurity Filly AFFECSHAHN, U.S. National Champion Bonanza and Reserve National Champion Hunt Pleasure Junior Horse PATCHOULY ROSE, Canadian National Champion Hunt Pleasure AOTR 40 and Over VALENTINO BA, U.S. Reserve National Champion Sweepstakes Colt PALISSADE, U.S. National Champion Mare AOTH THA BAY TINNA, Canadian Reserve National Champion Hunt Pleasure Junior Horse ALA GONDI, U.S. Reserrve National Champion Hunter and Hunter JTR PALANTIR, Canadian National Champion Gelding and Gelding AOTH ALADDA FIRE, U.S. National Champion Futurity Gelding *WOLFGANG K (also a National winner in western pleasure)and Canadian National Champion Show Hack AGRESSIONS GLORY.


(*Morafic x *Bint Maisa el Saghira)
grey stallion
straight Egyptian
Al Khamsa
full brother to Shaikh al Badi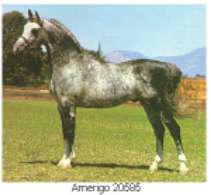 Amerigo was bred by Frisco Mari of California and won many championships during his career. Four years after being named 1966 Reserve National Champion Stallion, he returned to add a Top Ten to his credentials. In 1974, he was sold to Emkay Arabians, then of Ohio and later of Arizona. Between 1965 and 1987 he sired 227 foals and, while there is no doubt that Khemosabi heads the list, close to 35 others became champions. At least 9 have been awarded the Legion of Merit or Legion of Honor and 8 are National winners. They include Marrone, Khemosabi, Emkay First Lady, Emkay Tamarigo, Bantu AMerigo, Emkay Ameseyna, Amerigos Siren and the Half-Arabian B-Amerigo.
Amerigo was out of the Polish mare *Szarza, who was imported by Frisco Mari in 1961 She arrived in foal to Comet and produced *Corsair. As a sire for Dr. Don & Lois Thiel, *Corsair is perhaps best known for his daughter Susecion, dam of 7 champions including the double National Champion Mares Bask Melody and Fire Music. He is also the sire of 3 National winners; 5-time Top Ten Gelding Diamond Corjet, Canadian National Champion Informal Combination winner Diamon Kuntrie and the US Top Ten in English Pleasure AO 18+ Star Warrior.
Amerigo was *Szarza's first American bred foal and the following 6 were all sired by Regis, a son of Ferseyn. In order of birth they were Reginaa (Nationals and Legion of Merit winner), Aragon, Amadeo, ADV Stantiago ( all halter champions). Carsima (Regional Top 5 Pleasure Driving) and Andaluzia.
Aquinor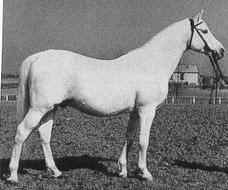 *Bachantka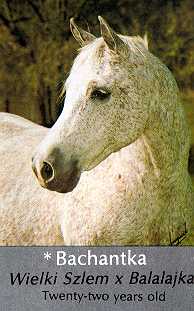 bred by Albigowa State Stud, Poland
imported 1961 by Varian Arabians
BALALAJKA PASB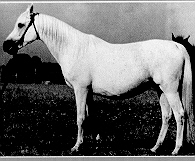 (Amurath-Sahib PASB x *Iwonka III #3937)
1941-1957 grey mare

BALALAJKA was born in Poland in 1941. Her dam was the good Polish broodmare, *IWONKA III (who later was imported to the United States), and her sire was AMURATH-SAHIB.
BALALAJKA produced eleven foals. She was truly the Queen of Poland as she produced one top foal after another. Arabians with names like *BASK++, BANDOLA, *BACHANTKA, BANIO and ARFA.

BALALAJKA'S last foal was born in 1957. She was 16 at the time. She died that same year.
*Bask++ (Witraz x Balalajka) was born February 9, 1956 at Albigowa State Stud in Poland.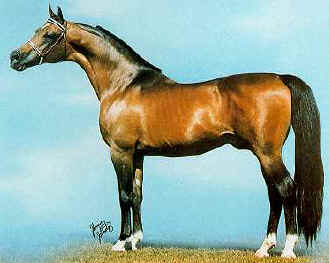 After racing for four years in Poland and retireing absolutely sound, *Bask was imported to the United States by Lacroix Arabians where he was named US National Champion at Halter and the next year National Champion Park Horse, the only stallion to accomplish this remarkable feat.
The following year he was Reserve National Champion in Formal Driving and Combination.
He has sired a legacy that may never be equalled. In the 1980 Canadian and US Nationals alone, *Bask++ get and grandget accounted for 90 Top Tens, including 14 champions and six reserves!
And now, 20 years after his death, his blood continues to be the most sought after for Arabian breeders who are concentrating on the Polish lines and tall, atheletic horses.
Bay Abi++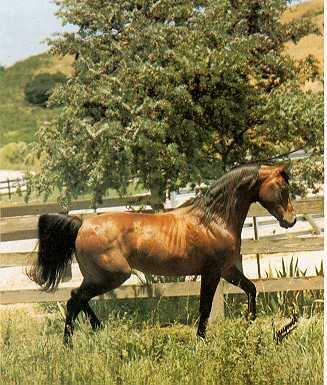 (Erabbi x Angyl)
1954-1986 bay stallion
bred by Loyd Silva
*Mirage sire line
1962 US National Champion Stallion
1963 Legion of Merit
1964 Scottsdale Reserve Champion English Pleasure
1964 US National Top-10 English Pleasure
1964 US National Top-10 Western Pleasure
Bay Abi has 23 National winners from his 275 foals. Bay El Bey is his most outstanding son; not only has he been Canadian National Champion Stallion, but was twice US Reserve National Champion Stallion and, has 5 more Top Tens. Having sired the outstanding sires Barbary, Bey Shah and Huckleberry Bey, Bay El Bey has been given the title of "King Maker" and has established a dynasty in the show ring and in the breeding shed.
Other Bay Abi notables include Bay Kinra (Reserve National Champion Western Pleasure), Baytar (National Champion Gelding and Western Pleasure), Contessa Bay (Reserve National Champion Western Sidesaddle), FW Flyte (Reserve National Champion Futurity Mare), Kloi Sinay (National Champion Futurity Stallion), and Mikado (National Champion Park).
Bay Abi is out of Angyl, a mare who carries 3/4 Polish blood, being by *Raseyn (by the Polish born Skowronek) and out of the Polish import *Wierna. *Wierna is by Ofir who was so important to the Polish breeding program, but is best recognized as the sire of Witraz (sire of *Bask), Wielki Szlem, and *Witez II.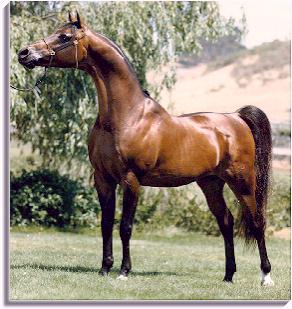 Wenonah Varian was the first to recognize *Naganka's foal for what he would become; she named him Bay El Bey, or "son of Bay." Sheila, distracted by family illness and the burdens of running the ranch, noted only that he was "nice" when he was born. As a yearling, he rated "special." It was not until he was 2 that she began to sense that he had a role to play at Varian Arabians.
The following year, she showed Bay El Bey to the first of a series of victories and high placings in the show ring, as well as bred him to one mare. His first foal, a filly named Reina Del Bey, arrived in 1972, precipitating eight more breedings -- and it was in that second crop that Bay El Bey produced Barbary, the first of the impressive lineup of stallions who would become outstanding competitors as well as breeding horses, earning their sire (and now, as the generations go forward, grandsire or great-grandsire) the epithet "The Kingmaker." Those first youngsters were enough to let Sheila know that Bay El Bey was the next step in her program; it remained only for him to make a name in the show ring.
In a halter career that spanned six years, the striking bay attracted considerable attention, never finishing out of the top ten in seven national appearances.
"What I remember most about him was his amazing neck, the same type that Bay Abi had, but with even more stretch and elegance," comments breeder Mike Nichols, who first saw Bay El Bey on a 1974 visit to Varian Arabians, which resulted in his purchase of the yearling Barbary. "The trick is to get certain things simultaneously; none is more important than the other -- type is crucial, correctness, performance, athletic ability, disposition -- you've really got to get all of those or you don't have what we're looking for and you don't have anything you can go on with. Bay El Bey was living evidence of that and how brilliantly it bred on."
That Bay El Bey was athletically inclined was apparent. In preparing for his halter competition, he often enjoyed an unconventional training regimen. One year, getting ready for Nationals, Sheila conditioned him with extensive rides in the country around Arroyo Grande, accompanied by her whippet Amber, and unofficially, a jackrabbit. "Every day, the jackrabbit would always be in the same spot, and every day we'd chase it, my dog and my horse and me. We'd be going wide open through rough country." Every day, she adds, the rabbit escaped. "That was Bay El Bey's exercise that year. I always exercised him under saddle, never longed him."
At Scottsdale in 1973, the combination was undeniable. "There were a lot of good horses in the [stallion halter] class," recalls Frank Evans, who judged the competition. So respected an official was Evans that he later was named one of only seven Judges Emeritus by the American Horse Shows Association. "When Sheila led Bay El Bey up for me to examine, he had everything I liked in a sire. He was masculine, had a tremendous amount of quality, and a lot of substance. It's hard to find all three of those things together. Then when she led him out for me to look at him in motion, and she turned the corner down at the end of the ring, I never saw a horse move so pretty in my life. I'll always remember that. There was no doubt in my mind; he was the best horse in the class. I made him champion. I think he was one of the most outstanding stallions that I ever judged."
As important as his physical presence was the sheer force of his personality. "Bay El Bey had the temperament that we see in all the descendants -- ready to work, full of fire, but completely sweet," says Mike Nichols. "That's what characterized everything that's come down from him."
"He had an extremely gentle inner side," Sheila concurs, "but he was very willing and enthusiastic in his own way." She searches for adjectives. "Bay El Bey was stately, wise, thoughtful, kind ..."
It was that gentle honesty that was nearly their undoing at the Canadian Nationals of 1977, when after a long, hard class, when everyone was tiring, Sheila knew that Bay El Bey had been giving his best, and let up a little.
As the judges made one final tour of the ring, a voice commanded, "Show me your horse!" It was Judge Tom McNair, card in hand.
"She got after it, and it was like magic," McNair recalls. "She made him look magnificent, and I was so relieved because there were several horses in there that could have gone [national champion]." He considers the memory, and becomes more specific. "I was seeing a really nice horse. When I say that, I'm talking about a correct horse, one that had a very expressive face, a really good poll area and neck to follow it, a good shoulder, good leg. He was the epitome of the athlete; he had a beautiful way of moving. To me, he stood out. I was delighted to see that he won the championship."
In addition to his Canadian National Championship in Stallion Halter, Bay El Bey was named 1974 and '76 U.S. National Reserve Champion Stallion, and earned seven top tens as well as eight championships and reserves at regional and Class A shows. Sheila also presented him briefly in English pleasure, totaling up three championships, three reserves and the Region II Championship.
By the late 1970s, Bay El Bey's growing reputation as a sire outweighed any desire Sheila Varian had to show him. He remained full time at Arroyo Grande, where he and Bay Abi formed one of the only national champion father and son teams to share a barn. In 1984, however, Bay El Bey was on the move, this time to Florida, where he was leased by Rohara Arabians for two years of stud duty. In the days before the use of transported semen, the move east provided increased exposure for the stallion and allowed his son, Huckleberry Bey, more opportunity to develop his own following on the West Coast.
"The first time I led him through the breeding shed, he became like a 10-story building with the momentum of knowing he was going to be bred," Rohara's Roxann Hart remembers. "Sheila's words kept running through my head, that he was a perfect gentleman, and I just hoped she was right!"
During his two-year residence in Florida, Bay El Bey established an indelible link with Rohara. "He's a part of our program through all three sons and one grandson, JK Amadeus," says Hart. "Even this year, so many years later, I would say that half of our show horses are either grandsons or great-grandsons (or daughters) of Bay El Bey -- 50 percent of the show string that we showed, and we had 21 entries at Region XII." His contribution? "Mostly the motion, the stretch, the overall athletic ability."
His disposition was appreciated as well. "He knew people and related to them," Roxann recalls. "He trusted those people he knew. In the barn, he knew each person's job. He was one of the most aware stallions; he was totally confident in his surroundings and who he was, and had an awareness of everything that transpired in his domain."
When Bay El Bey returned to Varian Arabians, it was to live out his days in the front paddock, the one which had been Bay Abi's and was reserved for the patriarch. Public attention was gradually shifting to his son, the charismatic Huckleberry Bey, and to his grandsons. Bay El Bey's last foal was registered in 1985, and living in genteel retirement, he was allowed to pass his days pretty much as he wished.
"Almost every time someone came to the barn, Sheila would ask me to stand him up for the visitors," relates trainer Steve Heathcott, who worked at Varian Arabians at the time. "Every single time I did it, he showed as good as any show horse I ever had, and I mean every time I did it. The funny thing was, I don't remember ever schooling him in between -- it's not like I kept him tuned up to show. When people arrived, I'd show him, and he'd show like the ones in show training who were being schooled three or four times a week."
In later years, Bay El Bey spent much of his time with Varian Arabians breeding manager Angela Alvarez, who at the time was a newcomer. Bay El Bey became her mentor.
"He stopped breeding mares just as I started a job of breeding mares," she recalls. From the beginning, there was a special bond between them.
Sheila Varian particularly remembers the sight of Bay El Bey and Angela, heading out to the back pasture to tease the mares, a duty the stallion took over from his sire, Bay Abi. "You'd see an empty 20-acre pasture when Angela led Bay El Bey in ... and then, over the hill, the mares and foals would come running to greet him. Because they were used to him and knew him, the mares didn't object when the foals came up to him, and he would stand with the babies all around him, talking to the mares. There was no striking, no biting, no rearing -- he knew what to do and how to do it."
"He was a once-in-a-lifetime horse for me," says Angela. The memories still bring tears to her eyes. "For those of us who love horses, who have had that 'special' horse touch their life and capture their heart -- they become our equine soul mates.
"Bay El Bey and I trusted each other. He had a strength and seriousness about him that I admired and a playfulness that I loved. If I wasn't moving fast enough to those pastures, he'd get behind me and nudge me in the back. I miss those nudges ... especially every morning around 8 o'clock."
By the early 1990s, the success of Bay El Bey's descendants was staggering. Through Huckleberry Bey and Barbary, his influence in the performance arena was profound; through Bey Shah, he nearly dominated the halter ranks. He had sired 441 registered foals, including nearly 100 champions and more than 30 national titlists. When he died on November 25, 1996, the Arabian world knew that the most important sire of sires in the 20th century had passed.
*BINT MAISA EL SAGHIRA+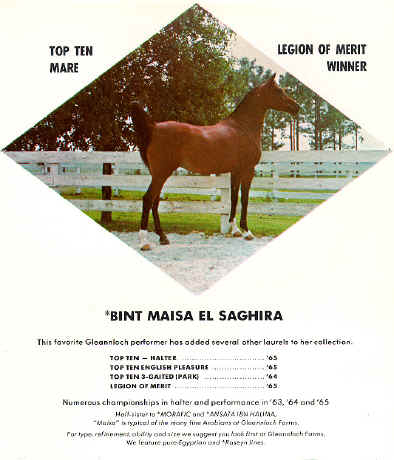 (Nazeer x Maisa)
1958 bay mare
Dahmah Shahwaniyah
imported 1962 by Gleannloch Farms

100% Sheykh Obeyd
100% Egyptian
100% Al Khamsa
1964 US National Top-10 3-gaited
1964 Estes Park Reserve Champion Great Plains Regional Mare
1964 Missouri Reserve Champion Mare
1964 Indiana Reserve Champion Mare
1964 Pennsylvania Senior Champion Mare
1964 Louisiana Reserve Champion Mare
Celebes 1949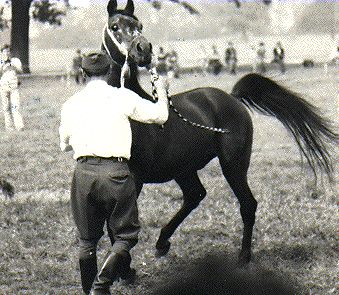 The most valuable son of Witraz other than Bask. A horse of model confirmation and beauty. He resembled his Grandsire Ofir more than Witraz. After a 15 year circus career he was used in Poland and sired 16 stallions, five of them used in Poland : Mellon 1969: Etap 1971; Algomej 1973; National Champion of Sweden and Poland; Aloes 1973 National Champion of Poland; Pepi, 1975. He is also the sire of 44 excellent mares of which are the Polish National Champion mares;. Algeria 1973, Ekslaza 1969, Elewacja 1970 and Mitlra 1969. His daughter Bandama 1970 sold to the U.S. for $650,000
Comar Bay Beau+++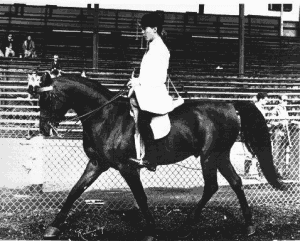 Comet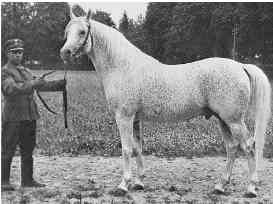 Over 35 years after his death, COMET blood is still revered in Polish Arabian bloodlines.
His daughters were highly priced possessions, his sons were no less
admired. COMET in a pedigree meant trot, type and a certain style
that was uniquely "COMET."

COMET died far too young, at age 11 of colic. The Arabian world still mourns his loss.

Sire Line: Kuhailan-Afas Desertbred stallion
Dam Line: Gazella Desertbred mare
bred at Nowy Dwor
Chief Sire: Nowy Dwor
Sire of: 74 purebred foals

Race Record: 9(1-3-1) over one season

Dewiza

1971 (out of Druzyna- by comet and whose dam line is Semrie)

A very handsome mare of very regular confirmation, a remarkable broodmatron at Michalow Stud, Dam of the stallion Deficyt, 1979 (by Algomej) sold to the U.S. for $609,000 and the mares Dewizka, 1977 (by Eufrat), Dewocja, 1984- exported to Sweden, Drawa, 1976 (by Burkan) Derma, 1980 (by Partrer) exported to the U.S., Diana, 1982 (by Probat) - Junior Champion Filly, Lack, 1983- sold for 1,200,00 at the Polish Prestige Sale in 1985.

Druch++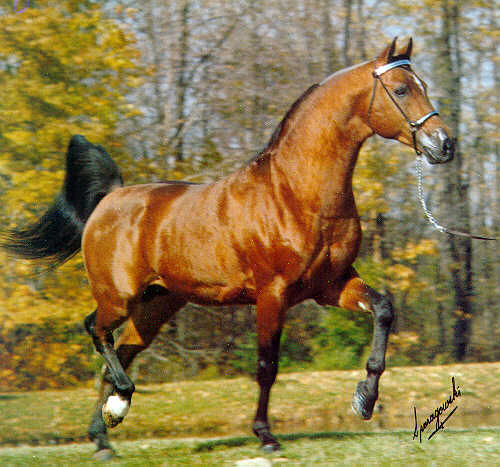 (Celebes x *Druchna)
bay stallion

Pure Polish
imported 1974

*Druch++ has always been a crowd pleaser, from his impressive race record in Poland, (17 starts, winning five times, second four times, and third five times), to his many championships in Park and Halter in the United States, including East Coast Champion Stallion and 1981 Region 15 Champion Stallion. His loving disposition, (his name means "buddy" in Polish), made him many personal friends as well. He passed both his athletic ability and his personality reliably to his foals. After enjoying a luxurious retirement, breeding mares and romping in green pastures, *Druch++ died at the age of 31.

EARTH WIND N FIRE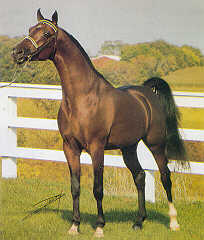 (*Bask x Beau-K)
1979 bay stallion

1982 US National Top-10 Futurity Colt
1983 Canadian National Top-10 Stallion
EW FEZ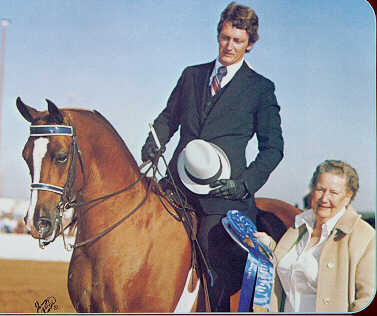 (*Bask x *Ferezja)
1972 chestnut stallion

1979 US National Top-10 English Pleasure

Ferezja

Ferezja 1956 (Doktryne x Forta)

Ferezja left one stallion that was exported to the U.S. and 3 daughters of which Ferenike, 1964 (by Branibor) and Fenicja (by Branibor) remained to become progenators of this valuable line.

*GWALIOR++
(*Naborr x *Gwadiana)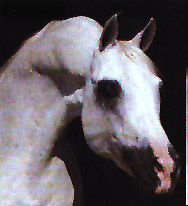 Imported in 1966 by Lasma Arabians, *Gwalior++ is the 1971 National Champion Reserve Stallion and Park Horse. He joined our family in 1971, when we purchased him and brought him home to our rolling green pastures. *Gwalior++ continued his impressive show and breeding career, and was recently named on of the breed's top 100 sires of champions. *Gwalior++ enjoyed a comfortable retirement as the riding horse of the Skeggs' granddaughter. His proud and gentle nature won him the love of our community. *Gwalior++ died in his sleep in 1989, but his legacy lives on in his beautiful progeny.
Indian Gold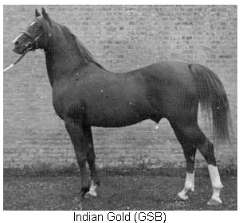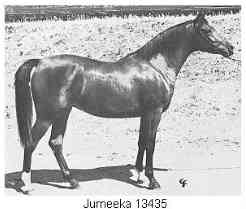 Jurneeka is the dam of 8 foals, 5 of whom became Champions or Reserves - Per Se (*Bask), Jurdino (Regis), El Paso Grande (*El Paso), Conquest (Amerigo) and Khemosabi. In addition to Khemosabi, 3 have added National winners to the family total - Jurdino is the sire of Canadian Top Ten Gelding/Top Ten Pleasure Driving winner Jurseyne, the National Champion Working Cow Horse Ibn Jurdino and Reserve National Champion English Pleasure winner Cardina. The Jurneeka daughter Jurlaina (by *Eter) is the dam of Diamon Jimm who was Top Ten in Western Pleasure AO-13 and Western Sidesaddle and Diamond Bask a Reserve National Champion in Pleasure Driving. Last, Khemosabi's full brother Conquest sired the Half- Arabian DW Seaquest who won two Top Tens in Park and a NSH Top Ten in Country Pleasure Amateur.
Jurneeka is a daughter of "the Fabulous Fadjur", a stallion known for both his presence and his kindness. Fadjur was bred by Frank McCoy but gained prominence as a show horse and sire after he was sold as a yearling to the Jack Tone's of California. His Nationals' career spanned Ten years from his first Top Ten in 1959 until his last at the 1969 Canadian show when he was 17. He was US Reserve National Champion Stallion in 1960 and 1968 and had US Top Tens in 1961 and 1963.
Fadjur is the sire of 820 purebred foals (plus many part-breds) and was so popular that he was bred year-round in order to accommodate all his ladies. Long before exporting horses from the United States became the norm, Fadjur offspring were traveling to owners around the globe. Fadjur has nearly 120 champions with at least 16 of that number having won the Legion of Merit or Legion of Honor. He has 23 National winners, three of whom are part-breds. The list of National CHAMPIONSHIPS only includes Fadalan (Gelding Halter), Fadloren (Stock) Ibn Fadjur (Stallion Halter), Marjanazam (Pleasure Driving) Sakifa (Mare Halter) and Zanntara (Trail).
Jurneeka's dam Fadneeka is by Fadheilan (as is Fadjur) who was half-Egyption and half-Polish. Fadneeka is a full sister to the Top Ten Mare Neeka and to Fadduda, dam of 2 National winners- Top Ten Mare Neeka and Sun-Fadroyal, Top Ten Formal Combination. While Jurneeka is the only one to win National honors, Fadneeka's daughter Bar Reefa (by Aarief) produced the Top Ten Sidesaddle and Costume winner Dixie Gem (by Galizon). Fadneeka's total champion tally is 4 , thus matching that of her dam Raneeka.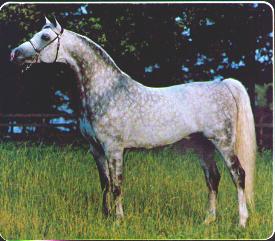 Kaiyoum, Canadian Reserve National Champion Halter Stallion and U.S. Top 10 Halter stallion. Kaiyoum is the #1 producing offspring of Khemosabi.



Khemosabi++++ was a U.S. and Canadian National Champion Stallion and U.S. and Canadian National Champion Western Pleasure winner. He has sired over 320 champions and 88 National winners in halter and performance. KHEMOSABI++++ get have won National Championships in many different divisions." "KHEMOSABI++++ has over 50 sons who have sired champions, 23 of whom have sired National winners. Over 100 KHEMOSABI++++ daughters have produced champions, and 62 have produced National winners." "KHEMOSABI++++ is the son of two National Champions. His sire AMERIGO is a U.S. Reserve National Champion Stallion and sire of 7 National winners." "KHEMOSABI++++ is out of U.S. Reserve National Champion English and Western Pleasure and Top Ten Mare JURNEEKA++, dam of 5 champions.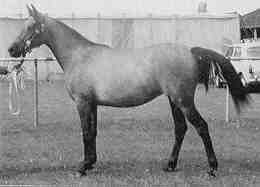 LALAGE was bred in England by Miss P.M. Lindsay at her Stockings Farm and was born in 1963. She was of pure Polish breeding and was later exported to Sweden (at age 2) where she later became a broodmare for Erik Erlandsson. Mr. Erlandsson was the breeder of *ALADDINN. Thought to be small, but of exquisite type, LALAGE was a classic Polish mare.

LALAGE had been injured on one of her legs after her arrival in Sweden, and because of this she was slightly lame.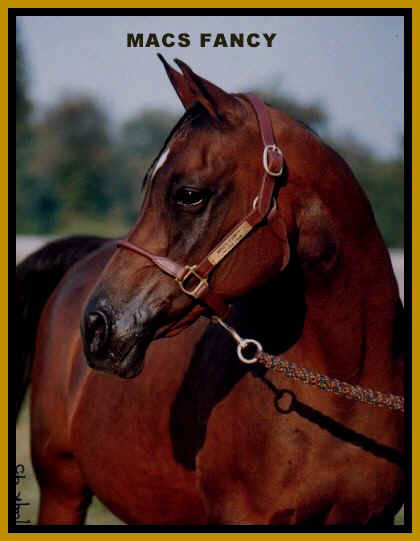 Macs Fancy is also the producer of three Champions to date:
YS FANFARE/ FANCY MEE TOO SV/ ESSBRUCA
She also holds the distinction of being the dam of WIND FORTUNE.
*Morafic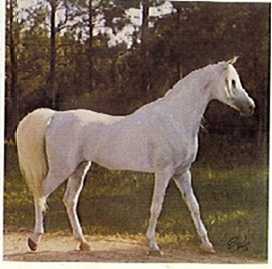 1956 grey horse
Bred by Egyptian Agricultural Organization, Egypt
Race Record
none known of
Imported in 1965
Foal crops 1960 to 1966 in Egypt, 1967 to 1975 in the US
Died March 18, 1974
*Naborr

(Negatiw x Lagodna)
1950 - 1977 grey stallion
Bred & born at Tersk Stud in Russia
Sold to Poland in 1955
*Naborr was the first Arabian bred by Tersk to be imported to the United States. He was imported to United States by Anne McCormick in 1963. Known as Nabor in Russian and Poland. He died of colic at 27 years of age in 1977
*NAGANKA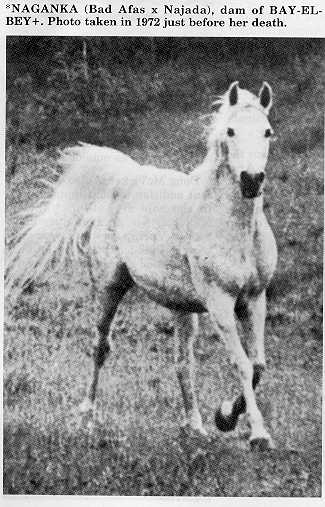 (Bad Afas PASB x Najada PASB)
1952 grey mare
bred by Nowy Dwor State Stud, Poland
imported by Varian Arabians 1961
Naseem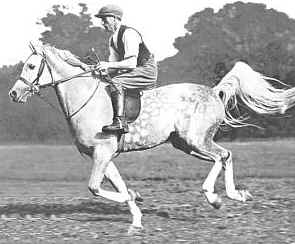 NASEEM GSB/RASB
(Skowronek x Nasra)
1922 grey stallion

100% Crabbet

exported to Russia in 1936

Negatiw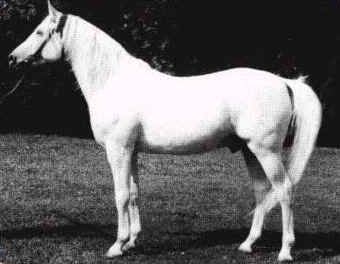 NEGATIW / NEGATIV RASB/PASB
(Naseem GSB/RASB x Taraszcza PASB/RASB)
1945-1973 grey stallion
bred by Tersk Stud, Russia
NEGATIW was traded by the Russians to the Poles for the stallion SEMEN in 1962.
NEGATIW was 17 years of age at the time. He was used at Janow Podlaski stud through 1968 and was at Michalow from 1969 - 1973 when he died.
He sired 105 purebred foals in Russia and 109 more in Poland.
He was put down at age 28. He was still breeding mares at this age.

Was standing at Janow Polaski State Stud in 1965.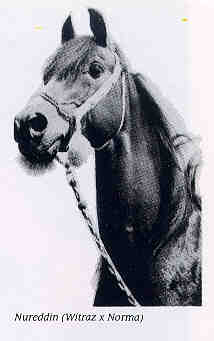 (Witraz PASB x Norma PASB)
1953 dark bay stallion
14.2 hands
bred at Albigowa State Stud
Pietuszok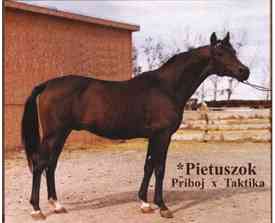 Pietuszok sired 69 foals and has 872 grandget as of 1/01/97
Sire of *Kassipia, *Banda, *Ala, Hussar, Pietrack, *Gaypolka, *Morenaa, *Orzel, Pietuszok DWA (the sire of Pyatigorsk). Algonkina, Beatrice, *Wosk and *Bajram.
*Pietuszok was imported into Poland from the Tersk stud in Russia at the age of four where he was used mostly on Witraz daughters. He was latter imported into Canada, Topol is his full brother.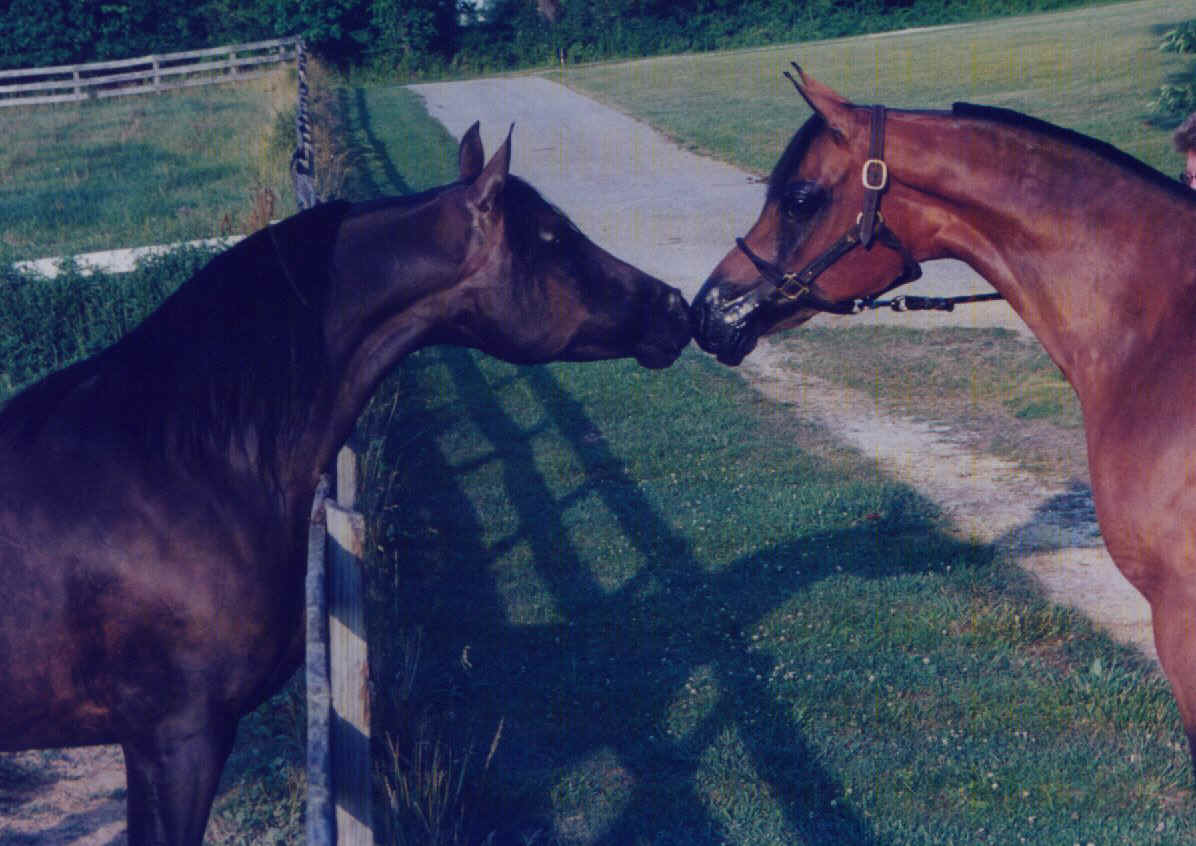 Shown on the left with Fancy Mee Too SV at Fantasia Farms Arabians.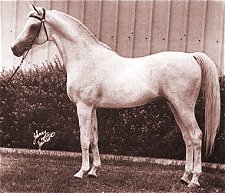 Talal, a US Top Ten Stallion, sired National Winners in Halter, including Canadian Reserve National Champion Stallion, TALAGATO,(a sire of National Winners in halter & western pleasure) . TALAL get have also produced such National Winners as US Top Ten Futurity Cutting, SHAM EL TALAL, US and Canadian Top Ten Mare, TULLE EL JAMAAL, US Top Ten Sweepstakes Colt, ZIMPULSE and US National Champion Hunter & Jumper, FARLEEZE. TALAL is a full brother to ANSATA BINT ZAAFARANA, dam of 4 champions including Canadian Top Ten Stallion, ANSATA ALI PASHA & US Top Ten Stallion, ANSATA EL NISR. TALAL was a successful racehorse in Egypt and later was head sire for Kline Arabians in California. TALAL descendents were noted for their athletic talent with several grandget winning national championships in Performance.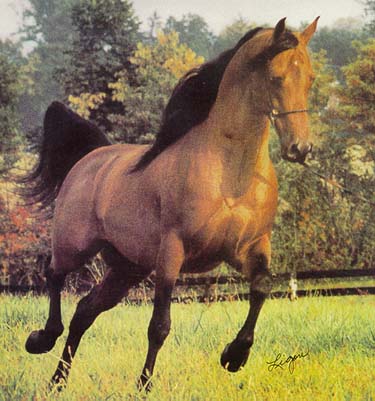 Talisman Bey was Champion Stallion at the Virginia State Horse Show and Reserve Junior Champion Colt at the 1983 Buckeye. From that time on, Talisman Bey was promoted through his progeny rather than continuing his show career. By the end of the 1986 show season, 20 Talisman Bey offspring had won nearly 60 championships. Talisman Bey combines the strength and conformation of his male lineage with the beauty and refinement of his dam. His ability to reproduce these traits with regularity has earned him a reputation as one of the important young sires in the Arabian breed.
Witraz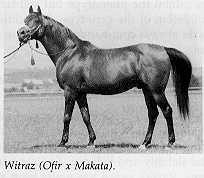 (Ofir PASB x Makata PASB)
1939-1957 bay stallion
141-3-27
bred by Janow Podlaski
used as stud 1941 - 1956
PASB Volume 2-3 page 30